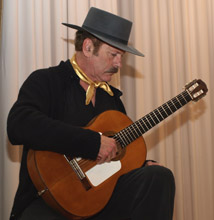 Terrence Farrell is now offering flamenco guitar instruction for students in the Monterey Bay area including Monterey and Carmel, as well as Salinas, Santa Cruz and the San Francisco Bay area.

Besides being a world renowned solo classical guitarist, Terrence Farrell is an accomplished flamenco guitarist and is the accompanist for Alicia Morena di Palma and other flamenco dancers.

For examples of Terrence's flamenco guitar music performances, listen to excerpts from his CD albums Soul of Spain, España De Mi Corazón and Travels with my Spanish Guitar. Terrence is the composer of all of the selections on Travels with my Spanish Guitar, and the other albums include traditional Spanish flamenco music. You can also see a full-length video of Terrence performing Malagueña.

Terrence's insight into flameco music has been enhanced by his studying flamenco dancing, along with his wife. Dancing flamenco has brought about a deeper appreciation and a more nuanced approach to how to teach flamenco guitar playing.

"This is amazing. I never knew someone could play like that."


"The guitar comes alive in his hands...pure magic."


"One of the most incredible bits of guitar playing I've ever seen! Just...wow!!"


"Terrence is truly an expert and artist."
-a few comments about Terrence's performance of Malagueña on YouTube